H & R Stabilizer Audi Tt Rs Quattro Coupé + Cabriolet Type 8j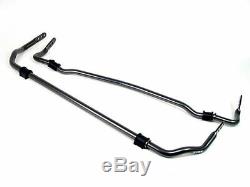 H & r stabilizer audi rt quattro coupé + cabriolet type 8j. This product page has been automatically translated. If you have any questions, do not hesitate to contact us. For more than 20 years of experience of listening. Large selection of tuning brands. Many free shipping option parts only in Germany. How to find the number of hsn & tsn! New car registration the 2.1 & 2.2 age pinks fields 2 & zu3. H the stabilizer audi tt rs quattro coupé + cabrio type 8j. H & r suspension stabilizers h & r stabilizer bars replace existing stabilizers and are adjustable for most car models. H & R stabilizers are compatible with both series and sports suspension, regardless of the manufacturer, be used.
This results in a more precise steering behavior, lower dive in fast turns, as well as improved traction. The advantages of the product: Rolling decrease of the vehicle handling -besseres of less loop wire -hochfester -partially multiple adjustable ends -präzisionsgeschmiedete bearings in special composite material loss -low comfort. Car: audi type of vehicle: tt rs quattro coupe + cabrio / cabriolet Execution: type 8j, 4 wheel drive year of construction: 08/06> diameter in mm: va: 24 ha: 22 va adjustable / ha: 2 x / 2 x article number: 33220-2 delivered with parts certificate. Notes: When H & R mounting stabilizers use unless otherwise provided by h & r, mounting parts are transferred. It must be ensured that the original receiving parts are in perfect condition, these parts if necessary to be replaced.
This stabilizer regulate the va-bar is also available separately (without the ha-bar) to build and enabled by teilegutachten. In a separate installation only the swinging bar, the vehicle can then, if necessary, but tend to understeer.
Please check before you buy on the constraints in the list of vehicles to find your appropriate spare parts. To ensure optimal tuning and avoid erroneous deliveries, please use the vehicle application list above and enter your vehicle identification number hsn / tsn. If you can always contact us and find us the right springs for your car. You will find this information in your vehicle, registration papers under the following numbers: manufacturer's reference number column 2.1 type column number 2.2.
France postcode areas are included in delivery: 97133, 97150, 972xx, 973xx, 974xx, 971xx, 97500, 976xx, 986xx, 987xx, 98799, 988xx (guadeloupe, saint-barthelemy, saint-martin, martinique, french guiana , meeting, saint-pierre and) miquelon, mayotte, wallis and futuna, french polynesia, clipperton island, new caledonia we do not deliver in regions with postcodes: 97133, 97150, 972xx, 973xx, 974xx, 971xx, 97500, 976xx, 986xx. Martin, Martinique, Guadeloupe, French Guiana, The Meeting, Saint-Pierre-Saint-Pierre-and-Miquelon, Mayotte, Wallis and Futuna, French Polynesia, Audio Island Clipper, New Caledonia). Great Britain postcode areas are included in the delivery: in the (Isle of Man), gg (guernsey), I (Jersey), we do not ship for the following postcodes: in the (Isle of Man), gg (guernsey), I (jersey).
Italy postal code areas are included in the delivery: 23030, 22060 (livigno, champione 'd italia), 47890 47899 (san marino) the seguenti zone di postal code sono exlus dalla consegna: 23030, 22060 (livigno, champione' d italia), (san marino 47890 47899). All shipping information pertains to payment and apply exclusively to the continent. (islands on request) (shipping costs by advance payment). Save this seller as a favorite.
The item \The seller is \This item can be shipped to the following country: