Mannol 5l Energy 5w-30 Premium + Mann-filter Filter Audi Cabriolet 8g7 B4 2.6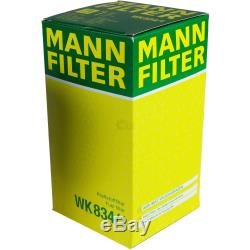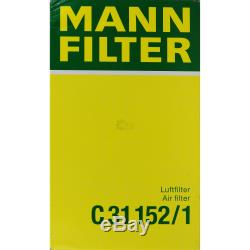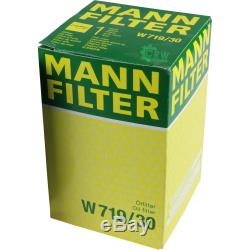 Mannol 5l energy premium 5w-30 + mann-filter filter audi cabriolet 8G7 b4 2.6. This product page has been automatically translated. If you have questions, feel free to contact us. 1 x original air cleaner filter man.
1 x original human cabin air filter pollen filter dhabitacle filter. 1 x oil filter original mann. 1 x fuel filter doriginal man. 1 x 5 liters fanny energy premium 5w-30. Mann of cabin air filters.
Opening pressure bypass valve diameter. Part of the recommended special tools. M 12 x 1.5.
M 14 x 1.5. 5 liters fanny energy premium 5w-30. Fire fully synthetic engine oil for use in gasoline and diesel engines of vehicles in order to determine, with or without a turbocharger, which equipped with or without a particulate filter (dpf fap) equipped and another gas cleaning systems have exhaust.
Modern preformulation of additives ensures maximum protection against wear and tear and extraordinary cleanliness of engine components under difficult conditions. The fully synthetic base ensures extraordinary stability of all engine the oil properties, even with dentretien intervals (up to 40,000 km). (Lpg / cng) can be used in LPG vehicles and natural gas car.
Sn Api api see Acea c3 bmw longlife-04 mb 229.51 505.01 vw vw vw 505.00 502.00 dexos Sil 2. Please compare the usefulness before reuse approvals for your vehicle. These refer to the instructions of use of your vehicle or on it, contact your workshop. As part of the combustion engine or the distribution of oil filters and gear oil, we are as a trader in accordance with Regulation on waste oils, check the related regulations and obligations.
We suggest that this ongoing costs of oily waste in the oil filters and used oil and oil changes the dangerous, which must be disposed of properly. It can not be shipped without special packaging by parcel service. Here, each cartridge must first be welded in a crate insert of a film extra-thick. The transfer can in special box of hazardous materials corresponding to the IATA regulations, take place. In addition, the packaging must contain approved absorbent material. Otherwise, the return of waste oil, in principle, at petrol stations or recycling collection site such as recycling or reuse of scrap is possible. In addition, your workshop, the oil used to have the same thing for an oil change. Api cf; api sn; Acea c3. 4011558730307; 4036021501383; 4011558403300; 4011558904401; 4011558137007. 5022 749; 890 x 9601 ka; 5022 748; 890 x 9601 yes. Mn7908-5; cuk 3955; c 31 152/1; wk 834/1; w 719/30. 8a0 819 439 b; 4A0 133 511; 034 115 561 a; ca5301; 06a 115 561 e; 131 129 620; 443 133 511; 06a 115 561; 857 133 511; 859 129 620; 1jm 115 561 respectively; 8D0 091 800; 191 129 620; 078 115 561 k; 447 133 511; 06a 115 561 b; 893 133 511; 811 133 511 b; 3B0 091 800. These figures are only for comparison purposes. The articles in this offer are not original parts unless they are explicitly identified as such. Illustrations and ow-no are only for comparative purposes may differ.
All used logos, trademarks and registered trademarks are the property of their owners. All products are checked for quality. Mostly all in stock - so no waiting. 24 months warranty on new products. 12 months warranty on used items.
Our service does not stop for you, with the sale of goods. Service servicekit, inspektionskit, wechselset, wechselkit. Wartung & pflege / inspektion. MOTOROL, Ölfilter, Luftfilter, Innenraumfilter, Kraftstofffilter. The item \\ kits revision \The seller is \This item can be shipped to the following countries: america, europe, asia.