Imasaf Exhaust Muffler + Attachments + Audi Coupé Cabriolet (86 / 8g) 2.0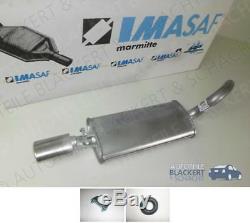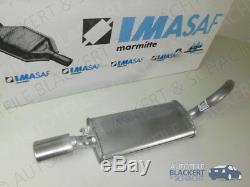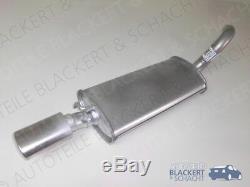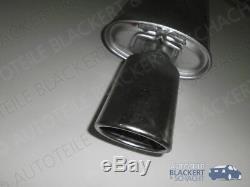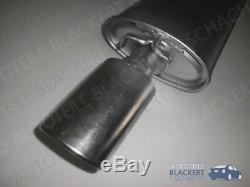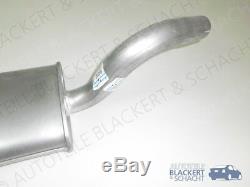 Exhaust silencer IMASAF + attachments audi convertible coupe + (86 / 8g) 2.0. This product has been automatically translated. If you have questions, feel free to contact us. Fit and ready for installation.
No new hu / required. With us, you get the following mounting hardware free this. Top at a very affordable price quality! Very high emission resistor - and corrosion of aluminum climate-related min and silicon alloy. Very good absorption of loads by reinforcements flexible connections.
Using the best raw materials ThyssenKrupp Steel. Have a silent pot lid at least 2mm thick -utilisent more than most other manufacturers.
For precise adjustment DInstalling avoids unnecessarily high costs that can sappliquer workshop also with many products cheap because they often need to be modified. New goods in the original. Ready to install, no soldering required.
Original form: remove old exhaust, new exhaust screw - done! Product features: assembly side: back. Audi: Audi 895253609m: 8g0253609b, vw: 895,253,609 m, vw: 8g0253609b, walker: 71357, bosal: 105-015, Gor'tesh: 220585.
Guide to the key number. For the part better for your car, we need the key number 2 (or 2.1) and 3 (or 2.2). You will find these in the vehicle papers denregistrement.
In the example, they are: 30. Our competent team is happy to answer your questions as soon as possible. It takes the codes of your car to determine the appropriate party.
Destination and opinions VAT, plus Shipping. Delivered only to addresses on the mainland (no islands) in: Germany European Union. Belgium bulgariy, cesko, danmark, eesti, Elláda, Spain, France, britain, ireland, italy, Latvija, lietuva, Luxembourg, magyarország nederland, austria, polska, Portugal, Romania, slovenija, slovensko, Suomi, sverige.
We send parcels with dpd or nox. The duration of the package in Germany working days 1-2, in the European Union up to 7 working days. The actual delivery time of a Debay element is specified in the \We do not ship to the islands in oversea territories or in the postcode areas. We reserve the right notification cancel orders with invalid delivery addresses. If you buy multiple items from us, you can save on shipping. For details, see above under. Excludes VAT, plus Shipping costs. 3700, 3730, 3720 3740 3751, 3760, 3770, 3782, 3790, 4592, 5960, 5970, 5985, 6720, 7884, 8305, 8592, 9940, 9950, 9960. Bt never gy gg , hs, in iv kw, ze, ka27-28, fk17-21, 38-PA20, pa41-49, pa60-80, ph16-50, po30-41, tr21-25. 1156aa 1156zz, 1791aa 1797zz, 8881aa 8884zz, 8891aa 8897zz, 8899aa 8899zz, 9161aa 9164zz, 9166aa 9166zz. There you will have the opportunity to enter a different billing address of your vehicle. Thus, we can ensure that the parts ordered to fit your vehicle. If no message within an hour from us, we ask you to inform us. Please check your spam folder in case of doubt.
We value your purchase within 4 weeks after lexpédition. Even if you are dissatisfied with your purchase with us, please contact before neutral or negative opinion about us.
Auto parts & balan tree gbr hattorfer str. 14, 36269 Philippsthal office hours. A reproduction of it, especially the use of text, text components and of images requires our prior agreement. Bsgbr sk2405 (search terms: di: 895253609m, audi: 8g0253609b, vw: 895253609m, vw: 8g0253609b, walker: 71357, bosal: 105-015, tesh: 220 585, 0588-501, audi cut 2.0 89, 8 b, 0588 -559, audi cabriolet 2.0) e 8 7 b4 artno: 13.43.
47 (accessories: 250-254 1 x, 2 x 255-338). The item \exhaust \ silent.
\The seller is \This item can be shipped to the following countries: European Union.