Audi 80 Type 89 B3 Sedan + Coupe + B4 Cabriolet Sport Silencer 2x63 Fox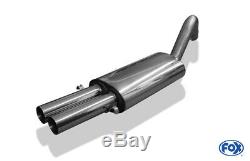 Audi 80 Type 89 sedan b3 + b4 + coupe cabriolet sport muffler 2x63 fox. This product page has been automatically translated. If you have questions, feel free to contact us. Audi 80/90 Type 89 b3 - sedan coupe + cabriolet + b4 darrière 2 x 63 by fox. Audi 80/90 - Type 89 b3 - sedan / coupe + convertible silent b4 - type 2 x 63 10.
Including mounting hardware - our tailpipes are bright silver, they are hand polished to a high shine. 1.6 l 51 / 55kw 1.8 l 65/66/82/85/92 / 103kW 2.0 l 82/83/85 / 2.0 16V 101 103kW / 103kW 2.3 l 98/100 / 123kw 110kw 2.6 2.8 ll 128kW 1.6 ld 40kw 1.6 l 1.9 l td td 59kW 50 / 66kW. Systems only as a complete system cat with au011000-msd, au011000 vsd and au011000 VB1 / vb2 and vb3! Is done individually, it can lead to a delivery from 3 to 15 working days! Fox exhaust represents 100% quality for each vehicle is unique and sportauspuffanlagen product for you at the highest level.
Treatment focuses on the quality of all stainless steel components with high quality. The development of the optimized performance of all silent, specially adapted to the individual needs of each type of training.
This certificate / abe for all current models. Flexible design exhaust pipe according to the customer. On highly polished designed nozzles. Note are important silent fox, unless otherwise specified, be fitted to the front muffler / standard center. Fox before central silencer or not fit in combination with the original silencer!
In the ordering process, you can combine multiple auctions to us and save on shipping, customize your billing address and delivery and choose the payment method and the delivery method. All information about the payment as our account data and for use in case of payment Advance payment / bank transfer as well. Exhaust outlets and universal parts. One month s revocation or return. Money back - if the item not received or not as described (buyer protection).
Installing your articles on demand. Your opinion is important to us! Please feel free to contact us if you need help or have questions.
Is everything to your satisfaction, we would greatly appreciate a positive review! Universal charger ni-cd and ni-mh with e ...
4 bags bmw tire tire tire bags bag gel .. adapter ac / dc universal 1000mA 230v-50 hz, 20 ... Car maintenance lackrepa all-in -a cleaning kit ..
bMW E46 320/323/325/328/330 for replacement of the tube .. bMW e63 / 64 4.4 l 4.8 l 270kW 245kw and tube replacement ..
smart fortwo coupé brabus bumper 451 -chocs sp .. exhaust pipe to be welded on Type 38 is oval 160x90mm.
Eur 16 2.0 0. Bonze24 ug (haftungsbeschränkt) \Silber glänzend, sie sind auf hochglanz poliert per hand. 100% \Motorisierung: 1.6l / 1.8l / 2.0l / 2.0l 2,3L 98/100 / 123kw. 2,6l 128kW 2.8L 110kw 1.6l to 1.6l 40kw 59kW 1.9l td td.
The item \\quiet\The seller is \This item can be shipped to the following countries: European Union.
exhaust pipe 2x63 Type 10: Round inclined <\/ li>
Manufacturer: Fox exhaust <\/ li>
exhaust tip: bright silver, they are hand on high gloss polished <\/ li>
motorisation: 1.6 l / 1.8 l / 2.0 l / 2.0 l 2.3 l 98/100 / 123kw: 2.6 l 128kW 110kW 2.8L 1.6 1.6 ld 40kw the 1.9l 59kW td td <\/ li>
product type: sport muffler <\/ li>
sound: its sports <\/ li>
brand: fox exhaust <\/ li>
fox is 100% \
pipe diameter: 63.5mm <\/ li>
material: stainless steel (V2A) <\/ li>
manufacturer part number: au011002-004 <\/ li> <\/ Ul>