BOSAL Muffler for Audi Coupe Convertible 105-127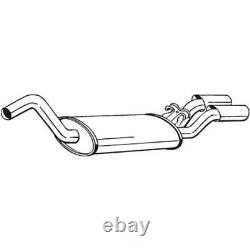 Item Number: 12460175 Item Number: 12460175 BOSAL Rear Muffler Original Replacement Part Number (OE) These numbers are for comparison purposes only. The original part numbers (OE number) serve as reference numbers for comparison purposes and may vary.
All logos, brand names, and trademarks used are the property of their owners. All products are quality checked.
Generally everything in stock - so no waiting time. 1 month right of withdrawal. 24 month warranty on new products. 12 month warranty on used goods. No paid hotline, calls at local rates.
Our service does not stop for you at the sale of the goods.