Fox Stainless Escape Audi A5 B9 Coupé Cabriolet Sportback 3.0tdi Quattro 2x80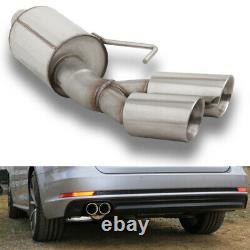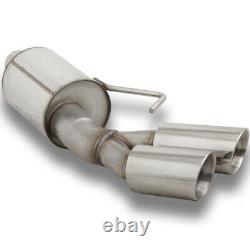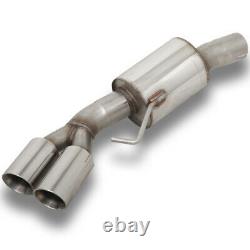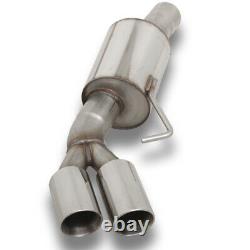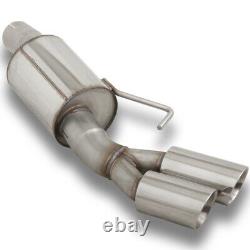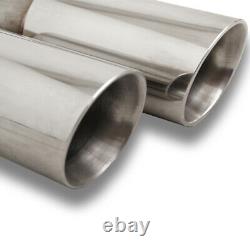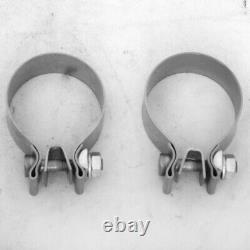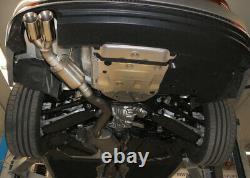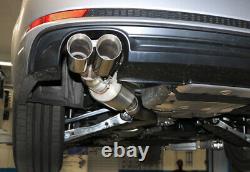 Fox stainless steel exhaust audi a5 b9 coupé cabriolet sportback 3.0tdi quattro 2x80. This product sheet has been automatically translated. If you have any questions, please do not hesitate to contact us. Zinit solutions gmbh product plug. Working hours Monday to Friday from 8:00 a.
Exhaust box sport stainless steel fox audi a5 b9 coupé cabrio sportback 3.0tdi quattro 2x80. Order number: 121011-290 # 1. If you have any questions about our products, our treatment, etc.
Type of exhaust pipe: 2x80mm type 25 round peeled, bevelled with absorber. Audi a5 b9 coupe cabriolet sportback. 3.0l tdi quattro (160 kw / 200 kw / 210 kw). Without certificate for models audi a5! Manufacturer information - fox exhaust. Fox exhaust systems is one of the leading manufacturers of sports exhausts.
Fox sports escapements are developed and adapted to the individual needs of the vehicle. Fox Sport Exhaust consists of high quality stainless steel v2a (1:4301) components. All people escape sport fox is characterized by its excellent fit accuracy. In addition to the sporty fox sound, an increase in performance can be achieved in most cases.
The tail silencer exhaust outlets are hand polished for high gloss. Most sport fox exhausts and all exhaust outlets are tested dekra/tüv and are delivered with ue/abe certificate delivered. Important note: unless otherwise indicated, the rear fox silencers can be mounted on the standard front or centre silencer.
However, the front or centre silencer of Fox Exhaust Systems is not suitable in combination with the original rear silencer. This article can be used for the following vehicles, among others. After receipt of the total amount, your goods will be prepared as soon as possible. Benefit from our advantageous terms of delivery for refund and pay your order directly to the delivery service upon receipt of the goods.
Please note that additional charges apply for this service. With the purchase on invoice, you do not take any risk. This method of payment is available for customers in Germany.
Simply pay in several times! Is the amount of the invoice too high for a single payment? Our partner bank santander offers you advantageous terms.
You determine the rate and duration. This method of payment is only available for customers residing in Germany.
Important - ask us before you finish the purchase! Please help us keep our prices low by giving us a 5-star rating. A neutral or negative return does not solve the problem! Thank you for your support!
This item is in the category "auto, motorcycle - parts, accessories\tuning, styling\ exhausts\silent". The seller is "www_sportauspuff-direkt_com" and is located in this country: de. This item may be shipped to the following country: europe.
Mark: fox à ¢ ¢ ¢ ¢ ¢ ¢ ¢ ¢ ¢ ¢ ¢ ¢ ¢ ¢ ¢ ¢ ¢ ¢ ¢ ¢ ¢ ¢ ¢ ¢ ¢ ¢ ¢ ¢ ¢ ¢ ¢ ¢ ¢ ¢ ¢ ¢ ¢ ¢ ¢ ¢ ¢ ¢ ¢ ¢ ¢ ¢ ¢ ¢ ¢ ¢ ¢ ¢ ¢ ¢ ¢ ¢ ¢ ¢ ¢ ¢ ¢ ¢ ¢ ¢ ¢ ¢ ¢ ¢ ¢ ¢ ¢ ¢ ¢ ¢ ¢ ¢ ¢ ¢ ¢ ¢ ¢ ¢ ¢ ¢ ¢ ¢ ¢ ¢ ¢ ¢ ¢ ¢ ¢ ¢ ¢ ¢ ¢ ¢ ¢ ¢ ¢ ¢ ¢ ¢ ¢ ¢ ¢ ¢ ¢ ¢ ¢ ¢ ¢ ¢ ¢ ¢ ¢ ¢ ¢ ¢ ¢ ¢ ¢ ¢ ¢ ¢ ¢
surface structure: stainless steel
Location on the vássaaaaaaaaaaaaaaaaaaaaaaaaaaaaaaaaaaaaaaaaaaaaaaaaaaaaaaaaaaaaaaaaaaaaaaaaaaaaaaaaaaaaaaaaaaaaaaaaaaaaaaaaaaaaaaaaaaaaaaaaaaaaaaaaaaaaaaaaaaaaaaaaaaaaaaaaaaaaaaaaaaaaaaaaaaaaaaaaaaaaaaaaaaaaaaaaaaaaaaaaaaaaaaaaaaaaaaaaaaaaaaaaaaaaaaaaaaaaaaaaaaaaaaaaaaaaaaaaaaaaaaaaaaaaaaaaaaaaaaaaaaaaaaaaaaaaaaaaaaaaaaaaaaaaaaaaaaaaaaaaaaaaaaaaaaaaaaaaaaaaaaaaaaaaaaaaaaaaaaaaaaaaaaaaaaaaaaaaaaaaaaaaaaaaaaaaaaaaaaaaaaaaaaaaaaaaaaaaaaaaaaaaaaaaaaaaaaaaaaaaaaaaaaaaaaaaaaaaaaaaaaaaaaaaaaaaaaaaaaaaaaaaaaaaaaaaaaaaaaa
manufacturer: fox à ¢ ¢ ¢ ¢ ¢ ¢ ¢ ¢ ¢ ¢ ¢ ¢ ¢ ¢ ¢ ¢ ¢ ¢ ¢ ¢ ¢ ¢ ¢ ¢ ¢ ¢ ¢ ¢ ¢ ¢ ¢ ¢ ¢ ¢ ¢ ¢ ¢ ¢ ¢ ¢ ¢ ¢ ¢ ¢ ¢ ¢ ¢ ¢ ¢ ¢ ¢ ¢ ¢ ¢ ¢ ¢ ¢ ¢ ¢ ¢ ¢ ¢ ¢ ¢ ¢ ¢ ¢ ¢ ¢ ¢ ¢ ¢ ¢ ¢ ¢ ¢ ¢ ¢ ¢ ¢ ¢ ¢ ¢ ¢ ¢ ¢ ¢ ¢ ¢ ¢ ¢ ¢ ¢ ¢ ¢ ¢ ¢ ¢ ¢ ¢ ¢ ¢ ¢ ¢ ¢ ¢ ¢ ¢ ¢ ¢ ¢ ¢ ¢ ¢ ¢ ¢ ¢ ¢ ¢ ¢ ¢ ¢
numãsásásásásásásásásásásásásásásásásásásásásásásásásásásásásásásásásásásásásásásásásásásásásásásásásásásásásásásásásásásásásásásásásásásásásásásásásásásásásásásásásásásásásásásásásásásásásásásásásásásásásásásásásásásásásásásásásásásásásásásásásásásásásásásásásásásásásásásásásásásásásásásásásásásásásásásásásásásásásásásásásásásásásásásásásásásásásásásásásásásásásásásásásásásássásásásásásásásásásásásásásásásásásásásásásásásásásásásásásásásásásásásásásásásásasásásásásásássasasasasásasasásásásásásasasasasas
product group: silent
product type: silent
Country/region/region/region/region/region/region/region/region/region/region/region/region/region/region/region/region/region/region/region/region/region/region/region/region/region/region/region/region/region/region/region/region/region/region/region/region/region/region/region/region/region/region/region/region/region/region/region/region/region/region/region/region/region/region/region/region/region/region/region/region/region/region/region/region/region/region/region/region/region/region/region/region/region/region/region/region/region/region/region/region/region/region/region/region/region/region/region/region/region/region/region/region/region/region/region/region/region/region/region/region/region/region/region/region/region/region/region/region/region/region/region/region/region/region/region/region/region/region/region/region/region/region/region/region/region/region/region/region/region/region/region/region/region/region/region/region/region/region/region/region/region/region/region/region/region/region/region/region/region/region/region/region/region/region/region/region/region/region/region/region/region/region/region/region/region/region/region/region/region/region/region/region/region/region/region/region/region/region/region/region/region/region/region/region/region/region/region/region/region/region/region/region/region/region/region/region/region/region/region/region/region/region////region/region/region/region/region/region/region/region/region/region/region/region/region/region/region/region/region/region/region/region/region/region/region/region/region/region/region/region/region/region/region/region/region/////////region//////////////region///////////
numãsaaaaaaaaaaaaaaaaaaaaaaaaaaaaaaaaaaaaaaaaaaaaaaaaaaaaaaaaaaaaaaaaaaaaaaaaaaaaaaaaaaaaaaaaaaaaaaaaaaaaaaaaaaaaaaaaaaaaaaaaaaaaaaaaaaaaaaaaaaaaaaaaaaaaaaaaaaaaaaaaaaaaaaaaaaaaaaaaaaaaaaaaaaaaaaaaaaaaaaaaaaaaaaaaaaaaaaaaaaaaaaaaaaaaaaaaaaaaaaaaaaaaaaaaaaaaaaaaaaaaaaaaaaaaaaaaaaaaaaaaaaaaaaaaaaaaaaaaaaaaaaaaaaaaaaaaaaaaaaaaaaaaaaaaaaaaaaaaaaaaaaaaaaaaaaaaaaaaaaaaaaaaaaaaaaaaaaaaaaaaaaaaaaaaaaaaaaaaaaaaaaaaaaaaaaaaaaaaaaaaaaaaaaaaaaaaaaaaaaaaaaaaaaaaaaaaaaaaaaaaaaaaaaaaaaaaaaaaaaaaaaaaaaaaaaaaaaaaaaaaaaaa
product type.: sound absorber
artikelnummer: at 121011-290#1
herstellernummer: at 121011-290#1
herstellungsland und -region: deutschland