Trailer hitch for Audi A5 cabriolet 09- Detachable Brink + 7-pin universal wiring harness TOP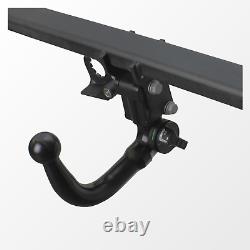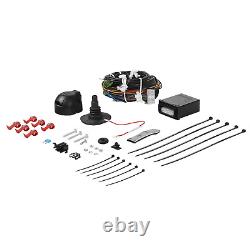 We are reachable from Monday to Friday from 08:30 to 19:00. Top service from the market leader.
Fast shipping at a low price. Customer service - before and after purchase. Thousands of products in stock. 02.2009 - 01.2017. Towbar + wiring kit for: Audi A5 Cabrio, consisting of.
Towbar: detachable ball and Wiring kit: 7-pin universal. This pack for Audi A5 Cabriolet is composed of: a detachable ball towbar from Brink with vertically detachable ball without tool and a 7-pin universal trail-tec wiring kit, perfectly adapted to the vehicle. The towbar has a towing capacity of 2000 kg and a static mass of 90 kg.
A TÜV (DREAL) registration is not necessary. It is not necessary to use a diagnostic tool to activate the wiring kit. Cannot be used for the RS5 model. It is possible that the vehicle's engine cooling may not be sufficient for towing. In this case, it may be necessary to replace certain parts of the cooling system. Please ask us, with the chassis number, if your vehicle is sufficiently prepared. Deactivating the rear fog light of the vehicle will not be possible. In Germany, flashing surveillance is mandatory for trailers. If you wish to order an electrical kit with a monitoring box, please contact us before purchasing. Approval from the Ministry of Mines is necessary. Depending on the vehicle model. Compatible with additional kit for more permanence. More offers for this type of trailer towbar.