Catalyst Kat Audi 80 Front Cabriolet 1.6 1.8 2.0 51 52 66 82 83 85kw Abk Abbé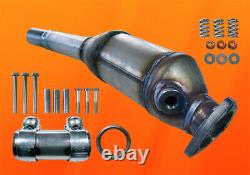 Catalyst kat audi 80 front cabriolet 1.6 1.8 2.0 51 52 66 82 83 85kw abbot. This product sheet has been automatically translated. If you have any questions, please do not hesitate to contact us. Perfectly adjusted and ready for installation (direct-fit). Iso 9001:200 / in iso 9001.
With control / approval mark ece. Compatible with the following models. Audi 80 (89.89q, 8a, b3).
Audi 90 (89.89q, 8a, b3). Front Audi 80 (8c, b4).
The figures we provide are only for comparison purposes and are not guaranteed. If you need help finding the right catalytic converter for your vehicle, our customer service will be happy to help you (see contact details). Perfect fit and ready to install. The tax class remains unlimited (no increase or decrease). With test/approval mark ece (no tüv registration required).
Certified manufacturers iso 9001:200 / in iso 9001. Attention: not suitable for vehicles with increased engine power e.
Adjusting chips or with a modernized gas system! All catalytic converters offered by rema parts gmbh are exclusively quality products from European manufacturers and/or suppliers. And compared to the manufacturer's original part, it fits so precisely that the catalytic converter (kat) can be installed in the respective exhaust system of your vehicle/vehicle model without any adjustment. All replacement catalytic converters proposed by rema-parts shall have a mark e and a description of the corresponding technical report (certificate of approval) in accordance with the European regulation ece-r 103 for replacement catalytic converters. Our catalytic converters are approved for road traffic and there is currently no separate examination or requirement for approval by a technical inspection body (e.
In the case of catalytic converters without the corresponding test e and certificate of approval, the vehicle may be used in the eu only with a separate individual approval during approx. Rema-parts provides only high quality products from European suppliers and/or manufacturers! All our manufacturers/suppliers are tested and certified according to din 9001:2000 / in iso 9001. 1-3 working days after receipt of the order.
If you order before 2pm: delivery on the next working day possible (except Saturday). 3-5 working days after receipt of the order. For an express or island expedition, please contact us. Additional maximum duration in days. Our service team is at your side if you have any questions.
Prices are shown in euros and are final prices including legal VAT. The tva will be shown separately on our invoices. Our tax identification number is: 814001720. The cost of shipping/payment on delivery is borne by the buyer. Please check the offer for shipping costs. Shipping is usually done via ups, gls, dpd, dhl. 8g0131702kx 8a0131089x 8a0131702n, audi 80 (89.89q, 8a, b3), audi. Coupé (89.8b), audi 90 (89.89q, 8a, b3), audi cabriolet (8g, b4). Audi 80 (8c, b4), audi 80 front (8c, b4), katalysator, kat. Austauschkatalysator, catalyst catalytic converter, catalizer.
This item is in the category "auto, motorcycle - parts, accessories\ automobile: parts and accessories\exhaust and anti-pollution systems\catalysts". The seller is "rema-parts" and is located in this country: de.
This item can be shipped to the following country: france.
* * * * * * * * * * * * * * * * * * * * * * * * * * * * * * * * * * * * * * * * * * * * * * * * * * * * * * * * * * * * * * * * * * * * * * * * * * * * * * * * * * * * * * * * * * * * * * * * * * * * * * * * * * * * * * * * * * * * * * * * * * * * * * * * * * * * * * * * * * * * * * * * * * * * * * * * * * * * * * * * * * * * * * * * * * * * * * * * * * * * * * * * * * * * * * * * * * * * * * * * * * * * * * * * * * * * * * * * * * * * * * * * * * * * * * * * * * * * * * * * * * * * * * * * * * * * * * * * * * * * * * * * * * * * * * * * * * * * * * * * * * * * * * * * * * * * * * * * * * * * * * * * * * * * * * * * * * * * * * * * * * * * * * * * * * * * * * * * * * * * * * * * * * * * * * * * * * * * * * * * * * * * * * * * * * * * * * * * * * * * * * * * * * * * * * * * * * * * * * * * * * * * * * * * * * * * * * * * * * * * * * * * * * * * * * * * * * * * * * * * * * * * * * * * * * * * * * * * * * * * * * * * * * * * * * * * * * * * * * * * * * * * * * * * * * * * * * * * * * * * * * * * * * * * * *
particularities: no drilling required
Mark: hausmarke
year: 4053906001998
Body material: vehicle-specific stainless steel
surface structure: vehicle-specific stainless steel
emission standard: no instruction
Vehicle location: exhaust
reference number(s) oe/oem: replacement catalyst, catalytic catalyst converter,
Approval boards and labels: no instructions Manufacturer part number: 500800001
engine code: pp, ru, sf, pm, aad, 3a, abm, abt, ada, abk, ps
substrate material: pottery
number of comparison: replacement catalyst, catalytic catalyst converter,
Manufacturer guarantee: 2 years warranty
product type: catalytic pot